Hi!
I made a csv-mode giving colors to columns, which helps reading the the csv-file. Especially if the rows have clearly different lengths. Please, do take a look of the pics below.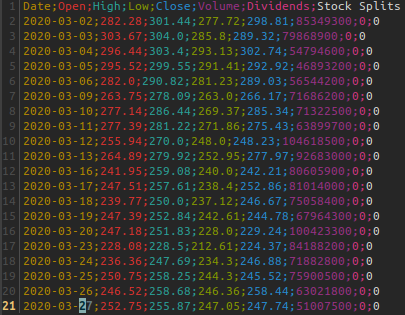 The script is short and can be found below. At the moment it uses a fixed separator for columns that suits me, that is the ';'-character. And the colors are also fixed.
If you like this, it is easy to take and modify. I'd like to make this a bit more usable as an extra plugin (or even part of the official collection of modes). And I don't mind at all if somebody handy takes and makes it. So:
How should the separator be provided as a parameter that the users can easily change on their kakrc?
How about the colors? How should the following code be modified so that it would use the color scheme the user has chosen? Or alternatively how to give an easy way to modify the colors?
The chosen mechanism to color the columns works for a number of columns but there is a limit. I tried some other ways without success to support clearly a larger number of columns (with different colors). Any hints or ideas how to do this?
Anything else to be considered that makes plugins nice to use?
# Detection
# ‾‾‾‾‾‾‾‾‾

hook global BufCreate .*[.](csv) %{
    set-option buffer filetype csv
}

# Highlighters
# ‾‾‾‾‾‾‾‾‾‾‾‾


add-highlighter shared/csv regions

add-highlighter shared/csv/comment region ^        \n   group
add-highlighter shared/csv/comment/ regex '(^[^\n;]*[;$])?([^\n;]*[;$])?([^\n;]*[;$])?([^\n;]*[;$])?([^\n;]*[;
$])?([^\n;]*[;$])?([^\n;]*[;$])?' 1:yellow 2:red 3:cyan 4:green 5:blue 6:rgb:993286 7:magenta

hook -group csv-highlight global WinSetOption filetype=csv %{
    add-highlighter window/csv ref csv
}

hook -group csv-highlight global WinSetOption filetype=(?!csv).* %{
    remove-highlighter window/csv
}