Hello!
kak-spec
I have written a unit test framework called kak-spec for kakoune scripts and plugins. The framework aims to make the development of robust kakoune scripts an easier and more pleasant experience.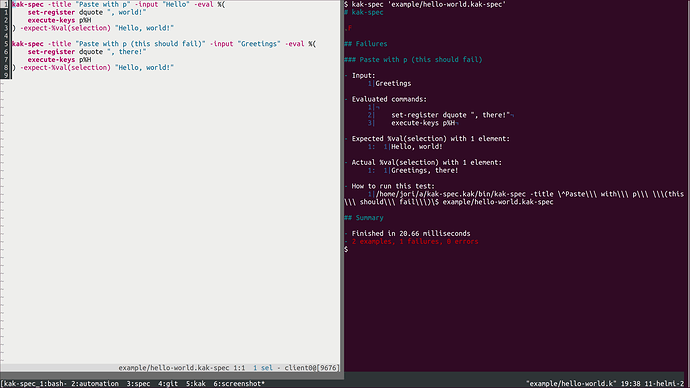 Story of kak-spec
One of the big strengths of kakoune is that it can be configured extensively by writing *.kak scripts and plugins. Unfortunately, developing and learning to develop such scripts can be laborious, as some in this forum may have experienced. Personally, I have developed many kakoune scripts in an often painful ad-hoc manner. This is particularly the case when it comes to testing. I have been the sole alpha and beta tester of my scripts, and most of that testing has consisted simply of manual use of my scripts.
Needless to say, such ad-hoc development with manual testing has lead to errors. For example, I have had cases where I write a script that works, but much later I realize that it fails when used with multiple selections, or with a selection containing only a single character, or in an empty buffer, or on the first or last character of the buffer, or after a kakoune update has changed some behavior. Most of these problems would have been avoided by proper testing.
Given these experiences, I looked for existing testing practices for kakoune scripts and found that the kakoune repository itself has a regression test script that can be adapted for plugins as well. That is great! I proceeded to copy it and use it for some personal plugins that I have. This was a nice improvement–I was finally unit testing some of my scripts. I should have done so from day one!
Despite having now unit tests, my experience was not quite as smooth as I had come to expect from using frameworks for other languags like rspec for ruby and crystal spec for crystal. I admit the comparison is not quite fair though, since one is a testing script for a single project whereas the others are entire unit testing frameworks aimed at large user bases of entire languages. Nevertheless, I grew to want changes to the facts that the kakoune regression test script
requires each single test to be specified as a directory of multiple files,
takes its time to run each test using a dedicated kakoune process, and
is not available as a conveniently installable script that you can easily run on any plugin.
Motivated by the above, I developed the unit testing framework kak-spec that
conveniently allows writing multiple test cases in a single file,
saves time by starting one kakoune process per test file rather than test case, and
is available as an installable executable that can be ran easily on any spec file you choose.
For more information, please see the repository kak-spec. I hope that kak-spec can be of use to many developers in the kakoune community. Please let me know if you have suggestions/thoughts/issues.
Cheers!